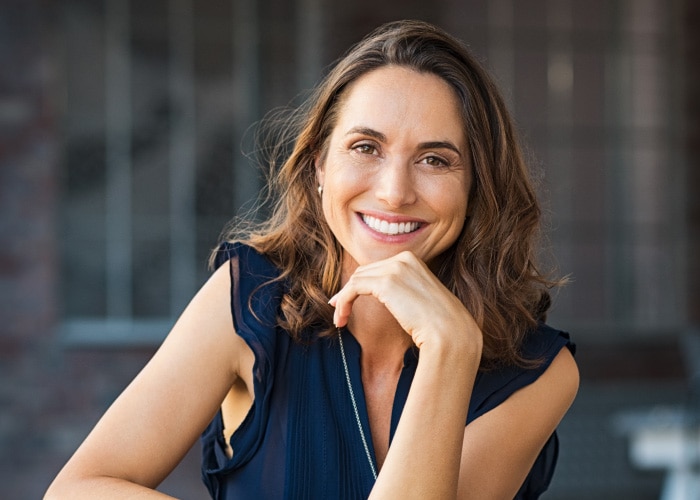 If you want to sleep with a married woman, you'll need to prove to her that you're a worthwhile alternative to the husband she has tired of. So it's all about injecting positivity into your relationship, reassuring her that you're trustworthy – and exciting.
Ways to Tell if a Married Woman Wants to Sleep with You
Guys looking for a relationship will usually consider married women to be off-limits. This attitude would tend to apply more to singles searching for available people in the more traditional dating outlets – bars, nightclubs, or social functions – whereas online matching sites have more flexibility, given the anonymity and secrecy they offer their clients. If someone is intent on finding a sexual partner, regardless of whether or not they have baggage like a husband or family, they can go online and check out the profile information available to the casual browser. Of course, in this scenario, there's nothing to guarantee the person in question isn't manufacturing aspects of their background. Anyone going on a dating site looking for connections is hardly going to advertise the fact they're already spoken for.
But many married women can get jaded with their situation. Life has a habit of settling into a routine, where domestic necessities get in the way of the sparkling social life a wife once enjoyed. If they happen to have single friends, they might even become jealous of their exciting calendar. When a married woman decides she would like to explore the possibilities for a relationship outside of marriage, they can become quite focused and single-minded about getting their just reward. A single guy should learn to decipher the subtle signals a married woman will give out when she's seeking an amorous encounter. Is she dressing provocatively? Do you get a lot of eye contact? Does she laugh at your jokes, especially if you start introducing innuendos? Is she tactile, frequently finding an excuse to caress you as you chat? And is she forever dropping hints about secretly wondering what sort of experiences she could have away from her husband?
When Is a Married Woman Off-limits?
Married women looking for affairs have a strong reputation. These are individuals who aren't afraid of making waves, and who often approach affairs of the heart with confidence and zeal. One of the reasons they search for extra-marital connections is because their husband has begun taking marriage for granted. Perhaps instead of displaying any verve when they get physical, he would rather collapse on the bed and sink into a deep sleep. His favorite leisure pursuit isn't sex, and it's a long day playing golf or drinking with office colleagues. But it's important to appreciate that not all women are prepared to take what is quite a brave step into what might be termed 'the affair zone.' They might well consider they'd have too much to lose, especially when meeting a singles guy for a relationship is seen in the shallow context of a few stolen moments of casual sex.
Recommended Ways of Getting a Married Woman to Sleep with You
When considering ways of appealing to a married woman you are interested in a relationship with, the key aspect to focus on is her femininity, rather than fixating on her status. If she is keen to embrace the ranks of couples who are dating outside of the serious long-term partnership confines, she will have already set her mind on connecting with someone on her terms. So you'll need to be relaxed in your approach. Never be tempted to sidle up to a married woman the way you would one of the younger available females you might be more used to talking to in singles bars or clubs. If a married woman gets the impression she is being chatted up, the conversation will have to be mightily impressive if she is going to feel compelled to stick around.
Flattery will always bring results, as long as the intent is genuine. You can be sure the married woman you interested in will have heard a lot of those familiar one-liners a thousand times before. But if you have taken the trouble to notice her daring outfit or you can recognize the expensive perfume she is wearing, you could earn significant brownie points. Make sure you use charm and intelligent conversation, rather than sound bites. You may be about to embark on a series of casual encounters, but that's no reason to be casual with her affections. A married woman will be after a genuine and meaningful alternative to the status quo she has enjoyed up until now.
How to Date a Married Woman - Advice for Keen Single Guys
Rather than thinking of your night of passion with a hot married woman as a bit of excitement before the inevitable moment, she decides to cut her emotional losses and return to her husband, and it would be worthwhile talking about the future you might have together. This doesn't mean you are about to suggest to her that she packs in one long-term relationship to jump ship and enter into something equally permanent with you. All you need do is pay close attention to making some sort of plans beyond these moments of passion. Married women are used to stability, so they won't be looking for a volatile connection. It's all about putting some thought into your time together. Much as there may be a mighty temptation to view everything in physical terms, what about discussing a weekend away in a charming country retreat? Or making a surprise booking for a recommended restaurant? This will demonstrate a degree of commitment that might well have been lacking in her marriage lately.
Convince a Married Woman to Sleep with You by Being Honest
If you'd like to enjoy a healthy relationship with a married woman, there are certain bounds you should never transgress. While it might be tempting to share aspects of your intimate connections with your wider social circle, discretion is the optimum requirement, especially if you are in the habit of sharing your personal life on social media. If a married woman finds out you've been telling all your friends about your fun time with an experienced cougar, you can't expect to be surprised if she stops returning your calls or text messages.