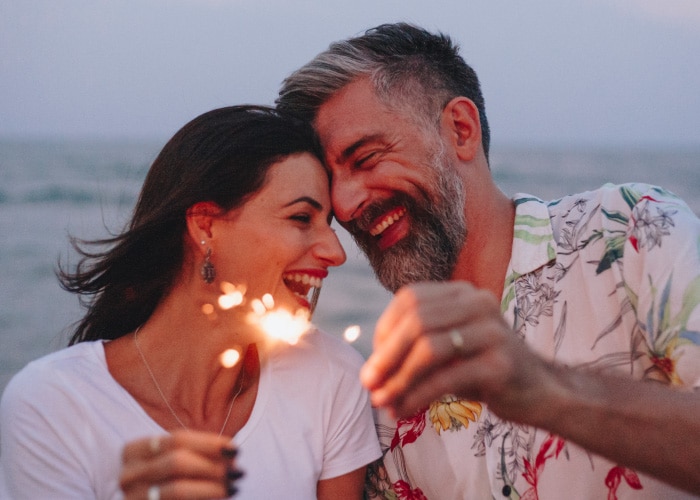 If you're a woman attracted to a married man, perhaps you've thought of resisting this urge? On the other hand, it wouldn't be uncommon to consider the possibilities of embarking on an exciting and passionate affair.
Have You Ever Wondered Why You Attract Married Men?
There is one aspect about married men that makes it almost inevitable they will show an interest in women outside of their marriage. It's that single syllable: men. Guys are slaves to their hormones, and the presence of a wedding band around their ring finger often proves to be wholly inadequate at dissuading them from having wandering eyes. There could be any number of reasons why you attract married men, so it can be difficult to narrow down the possibilities into a shortlist.
His situation will have a considerable bearing. When groups of men, married or otherwise, are on nights out together, it's the most natural thing in the world for them to notice potential partners, even if they aren't actually on the lookout for any sort of romantic connections. But if something is going on in their private lives where they are thinking of making serious inroads into having an affair, then you will most certainly fall under their radar if you dress in the least bit provocatively, wear sensual perfume, and convey an air of sassy confidence. Married men will pay particular heed to those girls in a company drawing the most attention to themselves. Approaching these self-assured individuals may be seen as a challenge, but one worth taking.
How Easy Is It to Persuade a Married Man to Sleep with You?
Married men will fall into two broad categories: guys who would never dream of being unfaithful to a wife, and the much larger group, guys who sometimes consider the possibilities of being unfaithful, especially if certain circumstances arise. Some within the former group can also be open to persuasion; after all, a married man's sense of resolve is entirely dependent on how happy and contented his family life happens to be, and the extent to which he will succumb to temptation. When powerful hormones are added to the equation, it can be even more difficult for a married man to retain his flawless character.
Say you're sitting in your favorite bar, and you come across a male you are drawn to. His marital status will often be of secondary concern to establishing a hospitable connection. As you spend time talking, you might notice him fidgeting; perhaps a moment will come when he tries removing his wedding ring as surreptitiously as possible. The bottom line is, many males, married or otherwise, are driven by their urges, to the extent that it can be a relatively straightforward task to get them to want to sleep with you. You won't even have to do much in the way of establishing a real connection. Just start talking flirtatiously.
The Fine Art of Seducing Men by Using Body Language
If you've ever thought about getting intimate with a married man but have perhaps lacked the confidence to actively pursue a get-together, the good news is you don't even need to engage in stimulating conversation or whisper sweet nothings. Married men are amongst the most readily turned-on people you are liable to come across. You can lay the foundations of a relationship long before you've exchanged much in the way of flirty chat. Perhaps you've already made a potent connection during online message exchanges on your favorite dating site. This is where you can employ your feminine wiles, letting your imagination run riot as you send suggestive texts back and forth.
When you meet face-to-face, your body language can hook a susceptible male and reel him in. Don't overthink this aspect of human interaction as much of it will occur naturally. The types of gestures we are talking about here include prolonged eye contact, or deliberately flaunting your physique through your choice of attire. Married men love women who dress in ways their wives have long since stopped feeling the inclination to do. So think of figure-hugging outfits and sexy heels.
The Optimum Methods of Making a Married Man Desire You
Married men will be attracted to a woman's body, especially if she is wearing clothes that enhance rather than subdue her natural curves. But they will also be drawn to the way she carried herself. It can sometimes be difficult to attract anyone's attention in a busy social arena, especially a singles bar populated by married men looking for affairs, who might find themselves spoiled for choice by the array of attractive girls they see gravitating around the dance floor. This is why there is nothing wrong with the direct approach.
In the modern age, gender roles and expectations are altering all the time. Gone are the days when women were expected to be seen and not heard and would sit shyly back and wait to be swept off their feet by some suitor. Married men should not be surprised when single women make the initial approach, engaging the guy they have fixed in their sights in easy chat. In no time at all, this straightforward talking can quickly meander into deeper waters, as double-entendres lead to outright sassy behavior. If you can couple this degree of hospitality with a more aloof attitude – that game is hard to play, but if you'll win – you'll have a married man that eating out of the palm of your hand.
How Would You Attract a Good Man for Marriage?
If you wish to attract a good man for a marriage, the most important attribute you'll need to find out more about is their character. You'll need to pose some basic questions. What's this guy's background? If they're single or have left a marriage, have they done so because they are keen to make a significant change in their lifestyle? Or are they simply a typical married guy who is looking for a casual encounter or two to spice up a temporary lull in their social life?
Check out his social circle. Get to know his friends. Ask them to be candid about him. Is he trustworthy? How long have his previous relationships lasted, and when they didn't, what were the main reasons for the break up? Most importantly, get to know this man better by talking to him, discovering his passions and aspirations, and what he is looking for in a partner.